Hurricane Irma Live Updates
PLEASE VISIT OUR HURRICANE IRMA UPDATE NEWS ARTICLE FOR AN UPDATED MESSAGE ON THE IMPACT OF IRMA IN HAITI FROM OUR CEO. This live news feed is no longer active.
PLEASE VISIT OUR HURRICANE IRMA UPDATE NEWS ARTICLE FOR AN UPDATED MESSAGE ON THE IMPACT OF IRMA IN HAITI FROM OUR CEO. This live news feed is no longer active.
Friday 8th September 11:15pm GMT/6:15pm EST
It's been a long 24 hours or so for our Haiti team. Following our earlier update, our team have returned from Quanaminthe reporting of flooding as pictured here. They were able to distribute some food aid to a local contact for distribution as required to local families, whilst also assessing the damage. We will be touching base with the team and making further decisions tomorrow. For now, as we bring todays live feed to an end, we are grateful and relieved that Haiti has been spared compared to so many. The hospital, staff and HHA team are safe and as we continue to watch the news seeing the devastation of other countries, we are deeply aware how fortunate Haiti has been, despite some of the challenges caused. We're also incredibly grateful to all of our supporters for their prayers and support over the last 48 hours. Thank you for standing with us again. Our thoughts and prayers continue to remain with those likely to be impacted over the weekend.
Friday 8th September 8pm GMT/3pm EST
Our team are currently en-route to Quanaminthe. Guylee, one of our team heading up our needs assessments, said they have seen places with around 1ft of flooding entering into some houses. We'll update you on their progress in coming hours...
We also wanted to pause and pay attention and thanks to our South Sudan team. In the last days we've received photos of our implementing coordinators battling themselves with the consequences of bad weather and some flooding. Reports say that in Africa through the month of August, 1,240 deaths have been reported due to intense rains and mudslides. Some of our South Sudan funded projects have seen the impact of this, with harvests planted washed away (pictured here). You can also see photo'd here some of our HHA team passing through flooded areas to reach those we're seeking to serve in the refugee camps.
Friday 8th September 5:45pm GMT/12:45pm EST
Our HHA team have been meeting with partners and surveying the area today, and we're grateful for their efforts. We're pleased to confirm that after a thorough review of Cap-Haitien, Haiti's second largest city on the northern coast where we're based, all seems ok. There is, as we reported some minimal damage in isolated cases, but as things stand, it seems for once this bit of Haiti has been fairly miraculously spared what could have been a devastating blow.
After reviewing Cap our team have headed further east, where they have found some communities with greater flooding (as pictured here), though it's hard to tell if this is anymore than typically happens from a normal years bad rain fall. That's not to diminish the flooding or impact but more to highlight that this kind of flooding happens so often without media attention in Haiti. It's the reason water born diseases like cholera have had and continue to have such a devastating impact on the country. Looking at each communities vulnerability to those health risks and the possibility of us providing water purification tablets etc. is something our team are reviewing if needed.
In the last hour or so our team have been alerted to reports of more serious flooding in Quanaminthe (the town that borders the DR). They are looking to visit the region in the coming hours to carry out a needs assessment and potentially deliver some immediate aid (water, food packages etc.), as we have received news that some families have lost their food and basic household materials. We'll be getting updates from the team as they head over there, and will keep you informed as we hear.
Friday 8th September 9:15am GMT/4:15am EST
Following our first update of the day below, a little added information that we were sent by our Medical Director over night who was coordinating efforts at our hospital. Cap-Haitien seems to have been spared the devastating impact we feared and the hospital as of the last news we received is ok. However, our team on the ground will initiate a full review Haiti morning time. As Guylee has shared below, heavy rains through the night will likely have impacted some of the communities in our region and it'll be important we check this out in daylight.
Our Medical Director sent the following photos to us which show some impact in northern Haiti:
The old bridge (some of our previous teams may remember) between the Dominican Republic and Haiti was washed away. Fortunately, the new bridge used between the two countries which was built several years ago has withstood the increased river levels.
As one would anticipate, even though the north of Haiti seems at this time to have spared the same devastating impact as other countries, reports are seeping through of some damage (as here from a street in Cap-Haitien), with reports of fallen trees, some on homes causing injuries. As yet, we are thankful reports of injuries seem minimal and there have been no initial reports of Irma related deaths. Again, we anticipate more detailed news from 11am GMT onwards.
HHA would like to thank our Haiti team who kept our partner hospital up and running through out the night. Some medical facilities had to close as part of the evacuation procedures put in place. We subsequently received some patients from other areas last night, including this emergency C-Section here. Whilst our attention was very much focused on Irma, our regular contact with our medical team reminded us of the incredible work they do on a day to day basis regardless. On one occasion when we were due speak with our Medical Director, he was in our Neonatal Intensive Care Unit helping to provide resuscitation to a baby. I'm proud our team were able to continue meeting Haiti's normal health needs at such a worrying time, when staff were understandably fearful themselves of their own homes and families. A huge thanks to them.
We will provide more updates on the situation in northern Haiti throughout the day. For now, our thoughts and prayers are with those who took a more direct hit last night and for other countries in Irma's path today.
Friday 8th September 6:45am GMT/1:45am EST
Good morning everyone. It's with relief that we're able to report that Irma did not hit Cap-Haitien with the severity of force that we have seen in other countries and that we were fearful of. Here, you can see an interview Guylee (one of our Haiti team) gave with Guardian in the early hours. Despite some relief, we are still very aware of the flooding risks to some of the poorer communities and reports of some infrastructure damage in Haiti. We'll provide a more detailed update on those reports in the coming few hours.
Guardian Interview:
Thursday 7th September 8:35pm GMT/3:35pm EST
We have had unconfirmed reports that Puerto Plata airport in the DR has been flooded with evacuations in that area taking place, a popular holiday destination for US and EU tourists. The same source stated that parts of Cap are now receiving waves of 8-10ft, higher than we'd typically experience in the region. HCBH have just text and the Ambulance has returned safely from picking up all the night staff. We now have a full team in place to see the hospital through the next hours, with the full force of Irma likely to hit our area at around midnight tonight GMT or 7 EST.
Michael Goldsmith, one of the HHA team from US, is also now booked in to get into DR as early as tomorrow to help lead our efforts on the ground. Pending the severity and outcome of tonight, Carwyn (HHA CEO/Co-founder) may also be required to join. We'll keep you informed.
Thursday 7th September 7:45pm GMT/2:45pm EST
So far there's limited news on the impact Hurricane Irma has/is having in Dominican Republic as it passes by the north of the country with sustained winds of 180mph, though 32 DR provinces remain on alert. Across all of the countries Irma has hit so far, tragically there have been 9 confirmed deaths but up to 13 reported.
As for Haiti, as you'll have seen from the videos here, the weather has picked up through out the last hours. To some degree, there is relief that Irma won't make landfall in Haiti, but the full damage as it passes is yet to be seen. HCBH will be lead tonight by our Medical Director, Dr Toussaint, who will be remaining at the hospital all night, so prayers for him please! Our CEO spoke with him in the last hour to get the latest news as HHA continue to prepare our potential response. As for the rest of our Haiti team, all are safe, though the internet is getting more intermittent so we anticipate communications dropping at some point. We'll keep you up to date as much as we can from our team in Haiti and other sources. Tonight will be our critical point where we're most at risk, so please do continue to pray.
Thursday 7th September 3:00pm GMT/10:00am EST
Video update from HHA volunteer, Guylee Simmonds, on the preparations being undertaken at our partner hospital in North Haiti, just hours before the hurricane is due to hit.
Hurricane Irma preparations in Haiti from Hope Health Action on Vimeo.
See the difference in the weather just 30mins later...
Hurricane Irma approaches North Haiti from Hope Health Action on Vimeo.
Thursday 7th September 1:35pm GMT/8:30am EST
News from out team in Haiti. One area on the seafront about 20mins from the hospital has been evacuated and the streets in central Cap-Haitien are almost empty as people await. Pictures here from this morning in central Cap where there would normally be markets, busy traffic etc. At the moment there's been some rain and wind, but nothing to bad, but the wind is reported to be picking up. The team are heading to hospital now to review final preparations.
Thursday 7th September 11:35am GMT/6:35am EST
CALL TO PRAY
Last year we gave some specific pointers for how people could pray for Hurricane Matthew. Many responded and said they found this really helpful. It can be daunting to simply be asked to pray for such a situation. Where do you begin? What do you specifically pray for? Following the positive feedback from last year, here's a specific Hurricane Irma call to prayer from our CEO and Co-Founder for those wishing to pray in next 24 hours:
1: THE STORM: In Mark 4 vs 39 when the disciples faced a life-threatening storm whilst in their boat, it says Jesus rebuked the storm and that the winds died down. Since Hurricane Irma hit the Caribbean there have been numerous tweets etc., even from country leaders in the region, who have prayed out that Irma's strength would cease. Whilst it can be hard to imagine how our little prayers could have such an impact and perhaps crazy for some, Mark 4 demonstrates that we're called to do this. Please pray that Irma would indeed loose strength as it continues its journey.
2: THE POOREST: In 1 Corinthians, Paul says that where one part of the body suffers, the whole body should suffer with it. Please stand with those who have already suffered the force of Irma (countries like Barbuda and St Martin) - you can read more on that in earlier updates this morning. Please also pray for those in our target region who are likely to be impacted. Such a powerful hurricane is indiscriminate, but…as is so often the case, it will be the poorest who suffer most.
For those who don't know Cap-Haitien where we are based on the tip of northern Haiti, there are a few areas to specifically pray for. Petit-Anse, an area about 15mins from our hospital right on the sea front. Much of this area is a very poor slum, with houses inadequately built on an old rubbish dump. Even in a good season this area gets flooded (as pictured here). The increased risk of rising sea levels place these families at significant, life-threatening risk. There are other similar communities, like Shada, a slum about 25mins from us in the heart of Cap-Haitien right next to the river where the sea passes in-land. Aside from those by water, Cap-Haitien also has a large mountain overlooking it. Sprawled up this mountain are hundreds, probably thousands of poorly made shacks. HHA have witnessed the tragic impact of mudslides before, and this is another grave concern in next 24 hours.
3: THE RESPONDERS: One of the worst days of my life during my time living in Haiti was attending the emergency scene of a mudslide that collapsed on a school in Cap-Haitien, tragically killing our friend and Medical Directors dear daughter. These were hard scenes for our team to tackle and whilst it is our prayer that this level of impact will be avoided in the next 24 hours, it's important those on the front line are covered in our prayer. Isaiah 43 says 'When you pass through the waters, I will be with you; and when you pass through the rivers, they will not sweep over you. When you walk through the fire, you will not be burned; the flames will not set you ablaze.' Please pray all the HHA/HCBH team and our partners like Konbit Sante who we'll be responding with. Please specifically pray for Dr Toussaint and Immacula who head up our partner hospital, that they'll have wisdom, discernment and courage in their response as leaders in the community. The hospital is right in the heart of the hurricane warning area and will no doubt be central to any emergency response that may be needed.
4: THE HHA FAMILY: Please pray for safety and protection on our HHA team in Haiti...our Haitian staff at the hospital, the patients in our care and our international team (Sibille, Guylee, Grace and Chris). Sibille, Grace and Guylee are assisting our efforts. Ephesians 6 says...'pray in the Spirit on all occasions with all kinds of prayers and requests. With this in mind, be alert and always keep on praying for all the Lord's people.' Please keep them in your thoughts and prayers through out the next 24 hours.
Thursday 7th September 9am EST/4am EST
Good morning everyone. Firstly, thanks for all your prayers and support so far. Preparations at the hospital took place yesterday, and we received the following txt from Dr Toussiant (our Medical Director) and Immacula (our Head Administrator) yesterday evening:
'We cleared branches from trees, we are boarding windows, we have an evacuation plan if one of the hospital units gets flooded or is hit hard. We have stocked up on food and water, gas for generators. The village is locked up as good as possible, all possible flying objects are stored and protected.'
Irma will be approaching the east coast of the DR this morning and then heading north over the island towards Haiti through out today, but posing the greatest risk to our region over night tonight. We'll keep you updated through out the day on final preparations and whats happening on the ground as Irma passes.
As things stand, here is a quick overview of the events of yesterday:
- Reported death toll for Irma in Caribbean currently at 8/9 (pending news source) though likely to rise. 8 of these from French territories St Martin and St Barthelemy (know as St Barts)
- The small island of Barbuda is said to be "barely habitable' with the PM stating that about 95% of buildings had suffered some damage.
- Officials in St Martin warn that the small country is almost totally destroyed
- In Puerto Rico More than half of the island's three million residents were without power as during Irma. Officials have said that power could be cut off for several days. Further reports pending
- Haiti Gov made public announcements warning residents, supported by 7m+ text messages distributing warnings to populations, with schools shut for coming days and north on standby
- HHA and HCBH prepared hospital for todays impact getting additional supplies of essential material, preparing patients/wards and getting ready to respond to aftermath as needed.
Alongside regular news updates, we'll be doing a call to prayer in the coming hours, so those looking to more actively engage in that way with us today, keep an eye out on that.
Thursday 7th September 2:30am GMT/WED 6th SEPTEMBER 10:30pm EST
As many Haitians are settling in for bed tonight, there is a sense of uneasiness surrounding many communities. While all may seem calm now, Hurricane Irma is expected to impact Haiti by mid-afternoon on Thursday. Irma is expected to affect five regions of Haiti: the North, Northeast, Northwest, Artibonite and the Central Plateau. While there are obvious concerns about the high winds and flooding, other potential issues include mudslides, blocked roads and the possible resurgence of cholera.
Fortunately, Haiti is doing its best to alert everyone to the upcoming hurricane. "I am asking you to be very vigilant and to listen to the advisories when they tell you to leave from coastal areas, leave from areas near the ocean," Prime Minister Guy Lafontant told the nation. Maarten Boute, chairman of the board of Digicel, said the company sent out seven million text messages on Irma Tuesday. Others, including HCBH, have been preparing for the past few days in anticipation of what lies ahead. Until then, many Haitians are preparing for the worst, but hoping and praying for the best.
We have been seeing some extreme videos coming out of devastated regions just east of Haiti. This live cam video from St. Maarten is a reminder of the powerful force of this hurricane.
For now we wait. And pray. Please join us tomorrow as we continue our live updates throughout the day.
Wednesday 6th September 8:30pm GMT/3:30pm EST
We've received this news from Sibille, one of our Swiss team in Haiti, who lives in Cap-Haitian and works at our partner hospital...
'The hospital has been under Hurricane preparation since Monday. Today, one day before Irma is supposed to hit, everyone is working hard to make our buildings a safe place for our staff, our patients and their families. Unfortunately, unlike other places in the world, it is a little bit more difficult to get preparations underway in Haiti.
Currently, our staff are buying material to close up all the windows, our nurses are moving patients beds from underneath windows, we have people cleaning up outside the buildings, removing anything that could be taken by the wind and become a flying object.
The hospital has enough gas to keep our generators running until next week, food and water for patients and staff "stuck" at the hospital are being stocked up today.

As of last night, it seems like the Haitian government has also recognized the situation in the North of the country as critical. Schools have been closed until the end of the week, warnings in kreol and simple pictures are all over social media to inform the public of what is going to happen. Places where to evacuate to, if living in a critical area of town (very close to the ocean) have been distributed by radio, mouth to mouth and again social media. All of these actions are an important step in preparing for a hurricane in an area that doesn't really believe anythings going to happen as they've had multiple hurricane warnings in the past without any consequences.'
Wednesday 6th September 7:15pm GMT/2:15pm EST
It is deeply concerning that the US National Hurricane Centre has now moved Haiti's alert level for Irma from a Hurricane Watch (shown in pink), to a Hurricane Warning (shown in red), showing the increased risk to the country.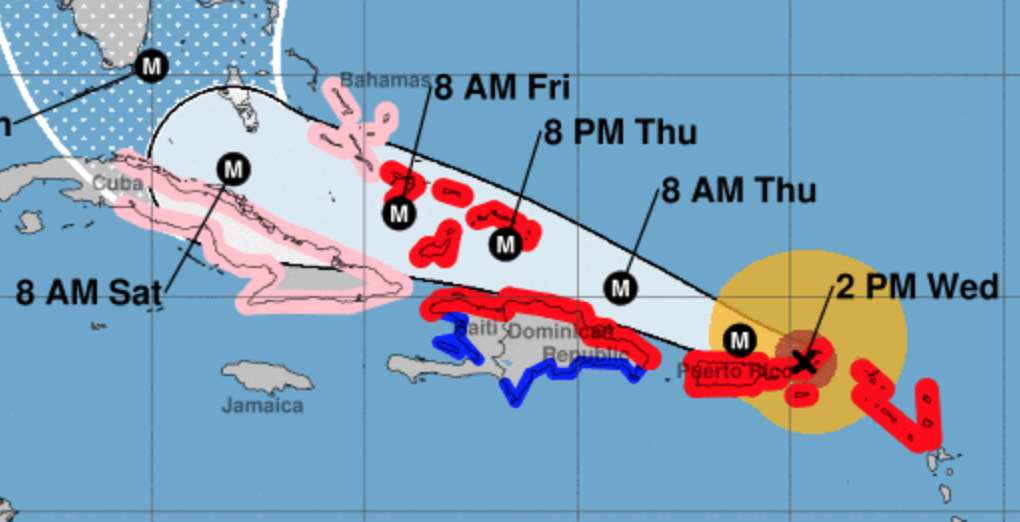 Following reports from countries like St Barts which were hit earlier today, this is worrying news. Michel Magras, Senator from St Barts stated 'I am shocked by the monster that covers us. The island is devastated. It is apocalyptic, a lot of damage, many roofs destroyed.' Videos and images are now emerging as here:
Wednesday 6th September 4pm GMT/11am EST
According to reports, Irma is pushing into Puerto Rico with the eye of the storm forecast to pass just north of their capital.
We've also just been on call with our team in Haiti and they will be sending us an update from the hospital later. Pop back tonight for a full HHA report on what's going on in Cap-Haitien and the possible consequences of tomorrow.
Wednesday 6th September 1pm GMT / 8am EST
Following this mornings update, despite some impact the prime minister of Antigua and Barbuda tweeted that the islands have been spared the worst...
Since then Irma has moved on and within the last hour or so has hit St Martin and St Barthelemy. Puerto Rico's Governor, Ricardo Rosselló, has said ahead of them being impacted later today; 'This is a category 5 hurricane unlike has never been seen before, so although we hope that the trajectory continues up northwards, we are preparing for the worst. Flooding is a main concern. We just saw with Harvey how the main cause of death was essentially flooding ... The second area of concern is wind. Category five winds are really aggressive'
As we prepare for Irma passing by Haiti tomorrow, flooding is also one of our main fears. We'll provide some specific information on that in the coming hours as it's a major risk for the region and a key prayer point for those looking for more focus.
Wednesday 6th September 9am GMT/ 4am EST:
In the last week we have been closely following the growing risk of Hurricane Irma heading towards the Caribbean. Unfortunately, in the last few days Irma's force has intensified, yesterday becoming the most powerful hurricane ever recorded over the Atlantic Ocean, with category 5 rain and winds (up to 224mph).
Irma has now hit landfall in the Caribbean, hitting the small countries of Barbuda and Antigua. Reports from both countries are minimal at the moment, with communication and phone lines disrupted etc. Our thoughts are with those already impacted and the other nations likely to see the full force or Irma today; Anguilla and St Kitts & Nevis being next, with Puerto Rico on emergency alert.
It is likely we will feel the full force of Irma in Haiti from tomorrow afternoon to Friday. For those who don't know, our partner hospital and community work is all based in northern Haiti, in the areas now under Hurricane warning. Our team are busy preparing, purchasing extra supplies of food, water, fuel etc., pruning trees, clearing the site, and being on standby for the potential consequences afterwards. Whilst we hope and pray that the reported potentially 'catastrophic' consequences won't impact the vulnerable communities we serve in northern Haiti, following the devastating impact of Hurricane Matthew last year, we are acutely aware of the threat Irma poses to our target region. Irma poses the greatest threat to our region in the 10 years we've worked there. Please join with us today as we pray and prepare.
We'll be providing further updates on the situation, our work and response, and specific calls to prayer through out the coming days, so please do check in.